Home
Truth of GOLDMUND - $9500 and $100 CD/DVD player use the same parts.
Because customers and magazines don't carry out blind tests, such thing is allowed.
2012/2/20
For the article of Select the audio by design, I'm looking for a picture of Goldmund. So I found interesting picture.
On the BBS goldmund ripoff - pink fish media, One photo has been pointed out that the internal parts of the two DVD players are the same. Goldmund's player is 6000 pounds (= $9,500) , and Pioneer DV-600 is $100.
GOLDMUND Eidos 20 (?) 6000 pounds = $9,500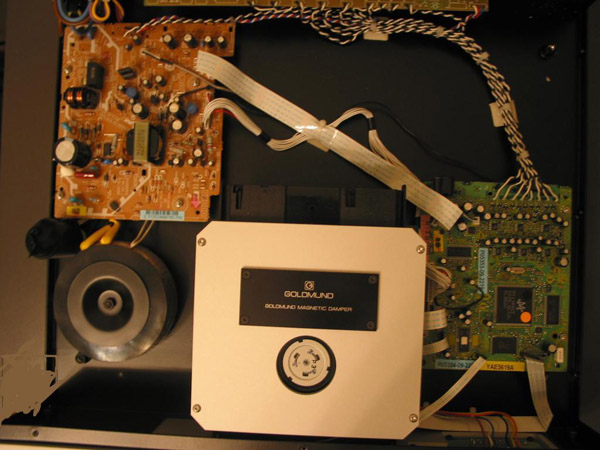 GOLDMUND's Web Page - Newsletter (in 2008 or before) had described that GOLDMUND Eidos 20A uses the parts of Pioneer (Today, the page was vanished).
It is well known that some makers use the drives of the CD/DVD made by Philips or Pioneer. However, I saw the first case which the substrate is used by no changes. Moreover, it is a thing of the cheapest products as DVD players.
So far, this is fact. Let's inflate the fancy from here. Why did Goldmund's employees divert the cheapest parts of Pioneer?
They were judged on the Pioneer player to have sound and video out is worth $ 9,500.

This is sheer propaganda for the pioneer.

Even if the development of their own, they did not feel the difference between the Pioneer player.

Therefore, they had to omit the board design and component development in desperation.

The exterior is more expensive.

Sound quality is up significantly by addition only the final output stage power supply (by Goldmund).

What will matter can be explained scientifically?
Criticism in the magazine: Stereo Sound
2008/3/16
GOLDMUND Eidos 20A is showed by
Stereo Sound No.166 (in Japan). The magazine has published photos of the inside with courage. However, its size is very small. Moreover, the left board is hiding.
I quote the text about Eidos on this magazine:
This product has been added the tuning of the flow by Goldmund with the heart of the player removed from the Japanese product
A plump shining tone was emerged to the quiet sound field.
I thought Goldmund's sound making is good.